---
I'm actually not sure who bloggy and
Tyler Green
are taking sides with in the
Jack Pierson vs Barneys dustup
. Barneys supposedly "forged," for its window displays, its own set of Pierson's "trademark" sculptures made out of found sign letters. Pierson is mad, and his gallery Cheim & Read wrote a pedantic letter to the clothier that stops short of asserting an actual intellectual property right but nevertheless accuses the retailer of a "fraudulent situation."
But given that those kinds of sculptures are commonplace--you see them in craft fairs, regional art shows, and T.G.I. Friday's-calibre restaurants--that's a bit like Duchamp writing an indignant letter to a urinal manufacturer. As long as the accusations of "fraud" are flying around, why doesn't Pierson have his gallery write an outraged screed to the
stock photography company
selling this royalty free image: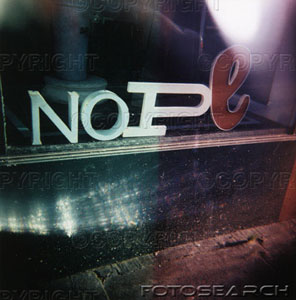 Or maybe sling a fraud allegation at painter Leslie Brack while he's at it?