---
---

MIT has created a $100 Laptop that is "crankable
---
---
- Water& Works Lucy&Jorge; Orta, Museum Boijmans van Beuningen, Rotterdam (NL). The British artist Lucy Orta lives and works in Paris and teaches at academies in London and Eindhoven. Her field is the interface between fashion and social engagement. She focuses on themes such as shelters for the homeless, offering solutions as a designer and artist, and she often works together with students from the art academy or social activism groups. The current project is designed for the public domain and is about the purification of water and the provision of clean drinking water.
- 'Orchard' Propolon, Regina Gallery, Moscow. The Russian artist POROLON was inspired by Marina Tsvetaeva's poem «Orchard» to the creation of new project which put you in the euphoria of light and color. The gallery halls will be decorated with the sponge sculpture, stone and glass installation. In artist's mind the image of «Orchard» is the highest award for endless patience and hard work.
- 'Tanguntsa' Valéry Grancher, Palais de Tokyo, Paris. "THE SHIWIARS PROJECT" an artist goes in a village of Indians of the deep jungle of High-Amazonia to establish a direct and creative bond with the Palais de Tokyo. The Shiwiars Indians live on the western slope of the Andes cordillera, in High-Amazonia, in one of the zones of the planet the most isolated and in which is largest. It is however with them that the French artist Valéry Grancher chose to establish a direct and creative bond and to divide it within the framework of its project for the Palais de Tokyo.
- 'Subtitled Public' Rafael Lorenzo-Hemmer, Madrid. SUBTITLED PUBLIC consists of an empty exhibition space where visitors are tracked with a computerized infrared surveillance system. As people enter the installation, texts are projected onto their bodies: these "subtitles
---
---
excerpted posts from if:book:
copyright 101 (8/25/05)
Richard Lanham, the godfather of electronic text, has written a wonderful piece in Academic Commons calling for a course in copyright for all undergraduates. Lanham, a UCLA English professor who has had a significant second career as an expert witness in copyright cases, gives one of the more cogent summaries of the copyright morass we find ourselves in as the digital tide overwhelms previous notions of property and ownership.
the creeping (digital) death of fair use (11/02/05)
Meant to post about this last week but it got lost in the shuffle... In case anyone missed it, Tarleton Gillespie of Cornell has published a good piece in Inside Higher Ed about how sneaky settings in course management software are effectively eating away at fair use rights in the academy. Public debate tends to focus on the music and movie industries and the ever more fiendish anti-piracy restrictions they build into their products (the latest being the horrendous "analog hole"). But a similar thing is going on in education and it is decidely under-discussed.
[...]

Fair use is what oxygenates the bloodstream of education, allowing ideas to be ideas, not commodities. Universities, and their primary fair use organs, libraries, shouldn't be subjected to the same extortionist policies of the mainstream copyright regime, which, like some corrupt local construction authority, requires dozens of permits to set up a simple grocery store. Fair use was written explicitly into law in 1976 to guarantee protection. But the market tends to find a way, and code is its latest, and most insidious, weapon.

Amazingly, few academics are speaking out. John Holbo, writing on The Valve, wonders:
Why aren't academics - in the humanities in particular - more exercised by recent developments in copyright law? Specifically ...
---
---
Trebor Scholz muses on the nature of time in the always-connected world:
On my way to Zurich I just met a colleague at the airport. We both fly routinely. "I can't do it anymore." he said. "All this air travel is just too much downtime for me." I moved onward passing through airport lobbies in New York City, London, and finally my Swiss destination. In these inbetween spaces I was persistently confronted with big, fat back-lid ads. And they were all about time. T-Mobile's slogan is "Upgrade your downtime." The airline Jetblue draws attention to their wireless hotspots at John F. Kennedy with the commanding "downtime-download." The mantra of the British Vodaphone is "The power of now!" BT shows a jolly business man fly-jumping through what looks like a landscape of Powerpoint charts: "The digital network economy. Where business is done." In JFK, Sprint, the American cell phone tycoon, set up yellow placards in the size of a house that say "yes to making just about any place a work place." It made me stop. I was buffled. How dare they be so in my face about what I perceive as the agony of immaterial labor?
Click thru for the full essay --fh
Originally posted on Rhizome.org Raw by mez breeze
---
---
---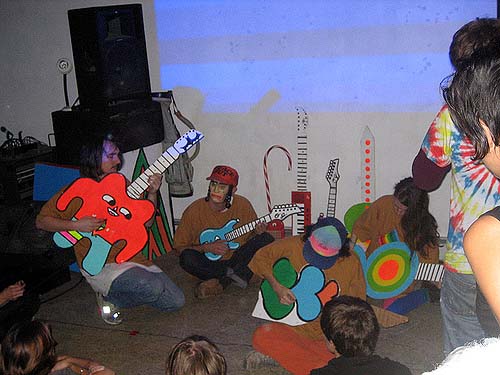 Paper Rad Info
is a blog about Paper Rad. However, it is not Paper Rad. That is
here
. Above is the Dooman Group. a spinoff band named after
Dr. Doo
; the photo came from Flickr. Inspiring!


And I confess I missed this Art in America article on Cory Arcangel, which discusses his collaboration with Paper Rad at Deitch Projects, among other activities. Fortunately I have the web to keep me up to date on print. We'll know a zeigeist moment has occurred when Cory is no longer called a "computer artist" and is just called an "artist."

---
---
John Maeda: Exhibition at Fondation Cartier (stills from Nature series)
new work by John Maeda opened at Fondation Cartier pour l'art contemporain last Friday. The Nature series consists of 7 "motion paintings
---
---
Untitled (Blue & Green) 1-18, 2005, HTML, 300 x 260 pixels each...
I really enjoy Chris Ashley's HTML drawings, but they are nearly impossible to reblog because they aren't hosted image files... they're HTML drawings! So here is an invisible reblog post and a tip to go an check out Ashley's impressive work...
Originally posted on Look, See by chrisashley
---
---
Online Sound Composition: What's Become of the Score?


The online Dots And Lines exhibition uses the networked space of the web to interrogate the subjects of the score, notation and visual data as core elements in the process of composition.
A great deal of sound art work using new technologies uses programming environments and algorithmic systems to generate compositions. Generative sound approaches have allowed musicians and programmers to develop new interpretations of duration and construction. The evolving processes and surfaces made possible by algorithmic sound softwares form new concepts of both the composer and the score. The primacy of the composer is often obscured in favour of a symbiotic relationship between the musician and the software. In this context, what has become of the score? [More...]
---
---
Mobility, New Social Intensities, and the Coordinates of Digital Networks
From stirrups to satellites, the invention of new forms of technical mobility has always created new intensities within the social. Each invention has also required a new idea of what it might be to be human, along with new tensions as older cultural practices and social forms are challenged. The contemporary mobility of digital networks is no exception. This issue of the Fibreculture Journal--edited by Andrew Murphie, Larissa Hjorth, Gillian Fuller and Sandra Buckley--is concerned with documenting, and beginning to think through, the new mobile intensities allowed by digital networks. "Intensity" here refers not just to the ubiquitous nature of mobile networks, or to the frequency of use of mobile communications. New intensities are like new forces erupting within the old - taking the social somewhere it has not perhaps been before. At the least, these intensities give established orders new energies to either resist or attempt to fold into established social practices and modes of thinking. [More....]
---
---
Complete survey by 12/09/05 for a chance to win a one-year subscription to ASPECT!
http://www.aspectmag.com/survey
ASPECT Magazine is conducting a survey to determine what you think of our publication and new or experimental media art in general. [....] Respond by December 9, 2005 for a chance to win one of five free subscriptions to be randomly selected from respondents.
ASPECT is a biannual DVD magazine of new media art. Each issue features 5-10 artists working in new or experimental media whose works are best documented in video and/or sound. Each work can be viewed with or without an additional commentator audio track. ASPECT has featured 33 artists and collectives, including the work of MTAA, Jim Campbell, Tony Cokes, Noah Wardrip-Fruin, and Denise Marika. Bill Arning, George Fifield, Marisa Olson, and Christiane Paul are among the list of distinguished commentators who have contributed to ASPECT. [....]
---
---