---
---

Caitlin Jones article on net art, and Rhizome artbase 101
---
---
Having survived colonisation, dictatorships, and inflation of 2639%, Brazil entered the 21st century with nearly half of its population living in extreme poverty and its media tightly controlled by Rede Globo, one of the biggest conglomerates in the world. Enter 'mimoSa'--an 'urban intervention and information correctional machine'--inspired by the belief that a new system of public broadcast is a means to achieve better distribution of power, representation, and visibility. Employing free and open source software, the machine facilitates the recording, uploading, and transmission of public stories. 'mimoSa' is now travelling throughout Brazil holding workshops at which people can build their own machine and take control of their own media. Telephone numbers and instructions are also painted on city walls and streets so that anyone can participate via their mobile phone. Created by Brazilian activists midiatactica.org, Canadian group Murmur, and individual artists and programmers, 'mimoSa' was commissioned by Turbulence.org in October 2005. Look out, Rede Globo! - Helen Varley Jamieson.
---
---
Call for soundart
deadline 30 June 2006
http://netex.nmartproject.net/index.php?blog=8&cat=54
.
Soundlab
http://soundlab.newmediafest.org
is invited to launch its 4th edition
in the framework of the Cologne based soundart event
KlangDrang Festival www.klangdrang.org
6-7 October 2006 and be part of the interactive media exhibition
by [R][R][F]2006--->XP - http://rrf2006.newmediafest.org
on the same occasion.
.
--->
--->Call for submissions
Deadline 30 June 2006
.
SoundLab
is looking for soundart works of
a) experimental character
b) electronic music
c) Voice -sound/music integration
d) and other forms
.
Theme : "Memoryscapes"
based on the subjects: ---> "memory" and "identity"
.
The submission has to be posted on a webpage for download,
please do not send it as an email attachement.
Submission format: .mp3
Size: Max 5MB, exceptions possible, but on request.
.
The authors/artists keep all rights on their submitted works.
.
Deadline 30 June 2006
Please use this form for submitting:
****
1.name of artist, email address, URL
2. short biography/CV (not more than 300 words)
3. works (maximum 3), year of production, running time
a) URL for download
4. short statement for each work
(not more than 300 words each)
.
Confirmation/authorization:
The submitter declares and confirms
that he/she is holding all author's rights
and gives permission to include the submitted work
in "Soundlab" online environment until revoke.
Signed by (submitter)
.
Please send the complete submission to
soundlab@newmediafest.org
subject: Soundlab edition IV
.
Deadline 30 June 2006
.
This call can be also found on
http://netex.nmartproject.net/index.php?blog=8&cat=54
.
*****
editions I - III of SoundLab -
can be found on
SoundLab Channel/Memory Channel 7-->at
[R][R][F]2006--->XP
http://rrf2006.newmediafest.org via the artistic body
or separately also ...
---
---
Crossmedia/Space Gaming
Epidemic Menace is a pervasive crossmedia game. Crossmedia games focus on a wide variety of gaming devices including traditional media channels, game consoles as well as mobile and pervasive computing technology to allow for a broad variety of game experiences. The overall goal of the game is to prevent the virus from escaping the campus, to clear the campus from the virus instances, create an antivirus to save Prof. Ivy Miller and to find out what happened on the campus. The winner is the team that that leads the high score list.
The game consists of two competing teams and each team holds a minimum of 5 players. Each team receives at the beginning of the game: 5 smart phones (one for each player); 1 Palmpilot; 1 AR system; 5 special online accounts (one for each player). Players can change devices or play modes anytime and can play on their own if they wish but have clear advantages through collaboration.
Game Space: The game is played in a physical and a virtual game space and teams have to play in both spaces in order to extinguish the virus. The virtual game space will be a model of the physical game space and game appearance and game mechanics will be adapted in the physical and the virtual game space. For example, the virus appears differently in both spaces.
In the physical world the virus may appear as: Spatialized sound, 2D Map, based display of viruses in proximity, Overlaid 3D graphics on AR devices, And in the virtual world the virus may appear as: Sound, Animated 2D and 3D graphics.
Storyline: The Dean of the Schloss Birlinghoven medical research laboratory Prof. Dr. Wolfgang Mathiessen has been working on a epidemic prevention program called EEPA (European Epidemic Prevention Association) for ...
---
---

Screen Kiss (clip) (2005, 3.1MB, 1:00 min.)
Jillian  is trying to make Billy Bob Thornton jealous.
inserting herself into existing film clips and getting kisses from Daniel Day Lewis,
Vincent Gallo, Johnny Depp, and Billy Bob's former wife - Angelina Jolie.
visit her project - Screen Kiss.
Originally posted on DVblog by admin
---
---

Camouflagued History, 1999
Courtesy of Mel Ziegler, Austin, Texas


Please join us for the opening of
TODAY, February 9, 5:30-7:30 PM
Artist Talk by Mel Ziegler: Friday, February 10, 6 PM
MIT List Visual Arts Center, Bartos Theatre


Free and Open to the Public


Organized by the MIT List Visual Arts Center and the Tang Teaching Museum and Art Gallery at Skidmore College, "America Starts Here: Kate Ericson and Mel Ziegler" is the first retrospective exhibition of the art-making team's decade-long career, which was cut short by Ericson's death of cancer at the age of 39 in 1995. The exhibition features 20 works made between 1984 and 1994, including: five installations; more than a dozen object-based works; numerous drawings and plans for unrealized works; and documentation of public art projects for which they were known. "America Starts Here: Kate Ericson and Mel Ziegler" offers a fresh assessment of the artists' contributions to the re-definition of public art in the early '80s in a way that was re-engaging with diverse communities.

Ericson and Ziegler's work focuses on unnoticed aspects of public life, by transforming ordinary materials-books, lumber, house paint, canning jars, tap water, to name a few-into artworks with social meaning and commentaries. Rather than impose a conspicuous work of art upon a site or situation, the artists devised projects that altered sites subtly, using poetic language and their idiosyncratic wit to illuminate mainstream American contexts and highlight individual community issues.

While their public art projects often focused on cultural institutions--including museums, monuments, and civic buildings--as sites for active engagement, their work incorporated voices of the ordinary people too often unheard in the world of contemporary art.
---
---

Lee Walton:
At this very moment, Rob Bohn is holding a red jacket in his hand and standing on the corner of 23rd and Broadway near the Flatiron Building.

He is excruciatingly cold for he cannot wear his jacket unless he is given an orange.

Simply find a way to get an orange to him and he will thankfully put on his red jacket.

He will be standing on the corner until the sun sets - wearing or not wearing his red jacket.

He is depending on you.


M.River adds - Yikes! It's cold in nyc today. Lee, how could you?!

M.River Update - T.Whid to the rescue! I just got a call at work from T. He has left his office near Madison Square Garden, picked up an orange and is headed down to save that kid Lee has standing out in the cold. He said he'll call when he gets there.

M.River Update #2 - T.Whid just called. He gave the kid the orange and he put his coat on. T.Whid reports that the kid seemed very happy to see him. The kid said he started standing at 12:15. Behold the power of the net and a slow Friday afternoon at work.
twhid update (also cross-posted to Rhizome_RAW):
I had a strange sort of elation when I exited the subway and saw him still standing there freezing and knowing that I had his salvation bulging in my coat pocket.

Lee's pieces along this line are a weird sort of flash anti-mob where only a few 'in-the-know' even know there's art happening. A sly statement on the 'special' knowledge some contend one needs to appreciate some forms of contemporary art?

Also we need to coin a phrase for this type of work ...
---
---
Digital Arts and New Media Festival
UC Santa Cruz Digital Arts and New Media MFA Program is pleased to announce the Digital Arts and New Media Festival taking place at UCSC between May 4th and May 7th, 2006. The UCSC DANM MFA Program serves as a center for the development and study of digital media and the cultures they have helped create. The DANM Festival 2006 will showcase the expanding arena in which this new art practice is emerging and it will signal UCSC's presence as a prominent center of activity in digital arts and new media. The DANM Festival 2006 introduces the campus and the public at large to cutting edge experimental work and serves as a bridge to the local community through collaborations with the The Museum of Art & History @ The McPherson Center and the Santa Cruz Film Festival.
Presenting work by national and international artists, expert speakers, and members of the DANM MFA Program, the DANM Festival 2006 features the following events [....]
---
---
New Vectrex installation I'm working on that'll be installed in the back room at Whistler for the March show — opens March 3rd. (sorry about the blurry picture, I had smoked too much crystal)
---
---
My notes from Shu Lea Cheang's talk at Transmediale "How i Got Fucked in Norway, Snowed in Swiss, Kissed in Paris and Driven Crazy by Babylove."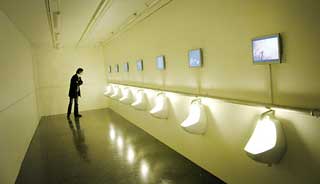 [More....]
This is a very nice, long write-up on some of Chang's recent projects, which touch on issues of pornography, decency, community standards, legality, mass media, censorship, and much more...
Originally posted on we make money not art by Rhizome
---
---