---
---
[by joel holmberg]
---
---
[by Clint M Chilcott]
---
---
It can often be hard to describe internet art as a movement, because its participants are spread across so many cities, and work in so many different ways. Net art has also been spread across a time period of great tech development in the last 15 years or more. In fact, some notable critics have already declared net art 'dead.' But this week in New York, one event seems poised to reflect the loud pulse of web-based practices by a new generation of artists. The Great Internet Sleepover, at Eyebeam, will be a night to remember as web-surfers flock to New York from all across the country for a creative lock-in. Most of the participants' activities will happen behind closed doors--a chance to bond and collaborate with colleagues. However, the first two hours of the event, from 8-10pm, will be open to the public. Members of 'group surfing' blogs Double Happiness, Loshadka, Nasty Nets, and Supercentral will be on hand, as will unaffiliated 'surfers' who go by handles such as Seecoy, Ominous Moo, and Wizard is Hungry. These two open hours will provide an inside glimpse into the artists' creative techniques, a chance to get your own hands dirty,a rumored 'free table,' and the requisite roundtable discussion on what all this means. - Elizabeth Johnston
---
---
Andrew Neuman is an artist whose sculptural work:
deals with issues concerning the uses of technology, language, and transmission of power in both its various corporeal and elusive modes. These works, what I call "Constructures", re-contextualize the technologically derived icons and place them in a new environment that allows one to question their original use and see the possibilities of organizing these icons/objects, into a new language with a completely re-defined hierarchy.
Not work that seems to have any particular focus on networks as such but using computer parts that look as if they have been stripped from rescued computers (can't say whether they have or not), mostly creating sculptures which have elements which move horizontally or vertically to pan cameras across something these works seem to have a single purpose which render them beautiful. Line (image above and below) is particularly interesting employing multiple cameras and monitors in a networked configuration, five cameras mounted on slowly panning constructions, each videoing a different type of line are networked to five monitors placed side by side to compose a single new line from the original five.
This is yet another work employing networks and lines in different ways, for more see the previous posts on Oneline.com and Liners.
---
---
Softspace: Contemporary Interactive Environments
Saturday 8 September 2007, 14.00 - 18.00
Tate Modern, £18 (£12 concessions), booking info.
"The physically permanent identity of architecture has helped to define society for centuries. Now some practitioners have disengaged from tectonics as we traditionally understand it and are taking their discipline into the realms of 'softspace,' a more fluid, ephemeral form of digitally-enabled design based on personalised experiences and responses. Softspace deploys new spatial systems including wearable computing, wifi, RFID and custom-designed digital software incorporating light, heat, sound and electromagnetic fields. These not only rely on people's individual ways of interacting with them, but are enriched by narratives people contribute, creating new metaphors of use. Responsive environmental strategies of this kind have increasingly colonised museums and galleries like Tate, the Science Museum and the V&A;
While the notion of a fantasy world made possible 'on demand' by new technologies is the theme of films like Minority Report and ExistenZ, contemporary softspace projects play a more subtle and open-ended influence on contemporary socio-spatial dynamics and our sensing abilities. Architects Usman Haque, Jason Bruges, Daan Roosegaarde and designer Despina Papadopoulos discuss the cultural implications of their work with Tate Modern curator Jane Burton and curator, author and critic Lucy Bullivant, guest editor of 4dsocial: Interactive Design Environments (AD/Wiley, 2007). Lev Manovich, the ground-breaking new media art theorist, is a keynote speaker".
Originally posted on Pixelsumo by Chris OShea
---
---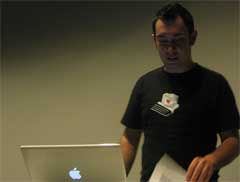 I just realized today that although my stay in Zurich for the Digital Art Weeks last month was super short, there's still a couple of links and projects i'd like to share with you. High on the list is the paper DIY: The Militant Embrace of Technology that documentary director, independent curator and new media artist Marcin Ramocki presented during the DAW symposium.
Marcin sees his paper as an attempt to clarify some of the theoretical issues sparked by 8 BIT, a documentary about art and video games which he created together with Justin Strawhand.
His expose dealt with cultural practices involving the subversion of consumer technology, be it hardware and software. According to Marcin, if the DIY approach in the field of fine art is almost taken for granted, it is still relatively new in the world of consumer electronics and software design.
The PDF is online, Hurray! So i'll let you enjoy that fun and smart text and will just blog a few links to make the reading easier:
The Hacker Manifesto, by McKenzie Wark.
Artistic critiques of technology: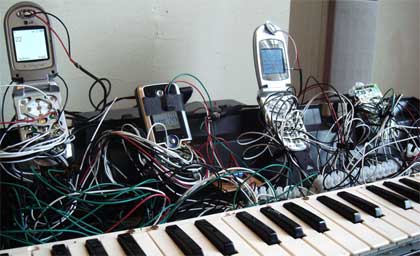 Cell phone piano, each key on the keyboard is wired into a key on a phone so as you play, you are dialing
- when artists are actually hackers who break something they
shouldn't be breaking, like in circuit bending. Paul Slocum's Dot Matrix printer hacked to be a drum machine or Joe McKay's cell phone sculptures.
- classical hack such as the early works by Cory Arcangel and Paul Davis opening and reprogramming of a Nintendo game cartridge.

- structural game works, legal game modifications and machinima. One example of re-dressing the code is SOD, a Castle Wolfenstein modification by JODI.
- re-purposed and prepared hardware such as Study for the Portrait of Internet (Static) in ...
---
---
REMIX RESOURCES GLOSSARY OF MUSICAL AND AUDIO TERMS–a glossary of terms that come courtesy of Moog Music in its Little Phatty user manual, and Thomson Course Technology in its Mixing Engineer's Handbook: Second Edition, written by Bobby Owinski. The following are examples from the Handbook, which you can download for free [....]
This is a pretty handy glossary for anyone interested in building their remix-related vocabulary. ~mo
Originally posted on Networked Music Review by helen
---
---
It was difficult to be more promising. The LABoral Art and Industrial Creation Centre, opened in March 2007 in Gijon (Asturias), with its rich and gorgeous opening program seems to announce a serious engagement at the intersection of art, design and new technologies. In this short interview, Rosina Gómez-Baeza Tinturé, Director of the Center and former Director of Arco Art Fair, talks about her ambitions.
The interview was conducted via email some weeks ago, while writing an article for Flash Art. In the meantime, LABoral appointed a Chief Curator (Austrian artist and engineer Erich Berger, the former Art Director and Curator of The Interface & Society Project of Oslo) and opened a new show, It's Simply Beautiful.
[Click-through for the complete interview.]
---
---
Jussi Parikka: Digital Contagions. A Media Archaeology of Computer Viruses. (New York: Peter Lang, 2007).
Digital Contagions is the first book to offer a comprehensive and critical analysis of the culture and history of the computer virus phenomenon. The book maps the anomalies of network culture from the angles of security concerns, the biopolitics of digital systems, and the aspirations for artificial life in software. The genealogy of network culture is approached from the standpoint of accidents that are endemic to the digital media ecology. Viruses, worms, and other software objects are not, then, seen merely from the perspective of anti-virus research or practical security concerns, but as cultural and historical expressions that traverse a non-linear field from fiction to technical media, from net art to politics of software. Jussi Parikka mobilizes an extensive array of source materials and intertwines them with an inventive new materialist cultural analysis. Digital Contagions draws from the cultural theories of Gilles Deleuze and Félix Guattari, Friedrich Kittler, and
Paul Virilio, among others, and offers novel insights into historical media analysis.
Jussi Parikka teaches and writes on the cultural theory and history of new media. He studied cultural history at the University of Turku, Finland, and is currently Visiting Research Scholar in the Seminar for Media Studies, Humboldt University Berlin. Parikka's homepage is http://users.utu.fi/juspar
Link at Amazon
---
---
Evelin Stermitz:

Nina Sobell pioneered the use of video, computers, and interactivity in art; she also pioneered performance on the Web (in collaboration with Emily Hartzell as ParkBench). In 1975 she installed the "Interactive Encephalographic Brainwave Drawing Installation" at the Contemporary Arts Museum in Houston. Sobell presented "Brainwave Drawings" and "Videophone Voyeur" (1977) at Joseph Beuys' "Free International University" at Documenta 6. She has continued to develop the piece over the years, and is currently working on a piece in which participants will collaborate on Brainwave Drawings internationally, over the Web.
http://ninasobell.com
http://www.cat.nyu.edu/parkbench/portfolio/index.html
http://brainwavedrawings.com
An interview about Nina Sobell's work in media and new media art
by Evelin Stermitz, August 2007, New York, NY.
[Click-through for the interview.]
---
---