---
---
"Flipped clock", 2008 by Thomson & Craighead.
Originally posted on VVORK by Rhizome
---
---
This weekend the Tate Modern celebrates the UK's Spring bank holiday with three days of playful events, from May 24-26. These include a Graffiti Research Lab workshop, what is sure to be an epic performance by Patrick Wolf and John Kelly in accompaniment to two of Nan Goldin's slide lectures, and a Flux-Olympiad--artist Larry Miller's realization of Fluxus artist George Maciunas's fantasy of a suite of oddball sporting events questioning the relationship between art and talent. These and other heavily Fluxus-inspired programs are geared around the museum's "States of Flux" exhibition, which looks at art addressing change, progress, and movement. This is a very interesting context in which to present one of The Long Weekend's most exciting events: large-scale architectural projections assembled under the rubric of "Past-Potential-Futures: Early Experiments in Computer Animation." Seminal pieces by artist/programmers Charles Csuri, Ed Emshwiller, Pierre Hébert, Denys Irving, Kenneth Knowlton, Malcolm Le Grice, Lillian Schwartz, John Stehura, Stan VanDerBeek, and others will be presented in this screening, whose program notes warn of the event's unsuitability "for those susceptible to photo-sensitive epilepsy." Though very few of these artists aligned themselves explicitly with Fluxus, their works similarly shook things up in the '60s and '70s as beacons for experimentation, pushing notions of the artist's identity and tools while evoking an important relationship between instruction (code) and the formal objects of their creation, anticipating the "new media" in many ways, while also harkening to the history of proto-cinematic animation with shadows, paper, and celluloid that had altogether escaped the aperture of any cameras. The event's title couldn't be more perfect, as these pulsating, kinetic films will hit viewers' eyes like luminous time capsules of a future yet to be realized. - Marisa Olson
Image Credit: Lillian ...
---
---
Organized by project.arnolfini, "antisocial notworking" is an online hub for critical and creative practices appraising the contradictory agendas of many of the internet's most popular websites. As Art & Social Technologies Research member Dr. Geoff Cox persuasively argues, in an essay accompanying the project, websites like Facebook and Myspace have amassed tens of millions of users through a promise of providing virtual spaces built upon user-generated content and geared towards positive interpersonal relations. While a peer-to-peer (p2p) system engages the same democratic project in the web's public realm, these social networking sites exist in the private sector, operating through a top-down, server-client relationship with its membership and harvesting social relations towards their own economic benefit. 'antisocial notworking' does not propose abandoning these programs, but rather seeks to elucidate the process by which social positivity became a marketable tool of capitalistic enterprises, and to consider how antagonism (to Cox, a necessary component of politics) may be constructively introduced into the virtual demos. Notable among the current projects on the site is Linda Hilfling's "Participation 0.0 - Part I" (2007), documentation of the 112 billboards the artist installed throughout "Second Life" that collectively display the full 7,000 words of the Terms of Service which users traditionally skim and agree upon before gaining access to the program. By planting this text on "Second Life" land, Hilfling allows users to recognize their tenuous position in a virtual world in which they may develop businesses and purchase land, but from which they may also be erased, according to Hilfling's reading of the terms, "for any or no reason." In keeping with its critical agenda, "antisocial notworking" will retain a dynamic, open-ended structure, to which people can add further texts, projects, and documents of their own navigation through similarly fraught online ...
---
---
Jodi
is a collective of two artists: Joan Heemskerk and Dirk Paesmans. They are pioneers of browser crashing, game hacking and overloading operating systems. For a list of their online pieces check their
wikipedia entry
.
"what is the biggest change you've witnessed?"


---
---
Joan Leandre defines himself as a "media interpreter." Active as a video artist in the field of independent media from the early 1990s, he won international recognition from 1999 thanks to retroYou (RC) (1999 - 2001), a progressive modification of the parameters used to construct the 3D graphics of a car racing video game. With retroyou nostal(G) (2002 - 2003) he goes on to deconstruct a flight simulator. In both cases, Leandre utilizes software to subvert and re-write a powerful ideological machine, translating a rather conventional generator of reality into a medium for illusions. The Dr. Strangelove of computing, Leandre loves the bomb and knows its mechanisms well enough to transform them into the workings of a multi-layered ambiguous narrative, esoteric and seductive at the same time. This aspect of his work is apparent in his latest project, In the Name of Kernel (2006 - ongoing). The kernel, the heart of every operating system, becomes the myth around which coagulates a symbolic event combining travel literature, the alchemy tradition and science fiction, terrorism and conspiracy theories, programming and mountaineering, 3D modeling and satellite mapping, hallucinations and revelations.
---
---
The Influencers is a Barcelona-based event which explores controversial forms of art and communication guerrilla, presenting independent projects that play with global popular culture, infiltrate the mass media, and transform fashions, consumption and technological fetishism.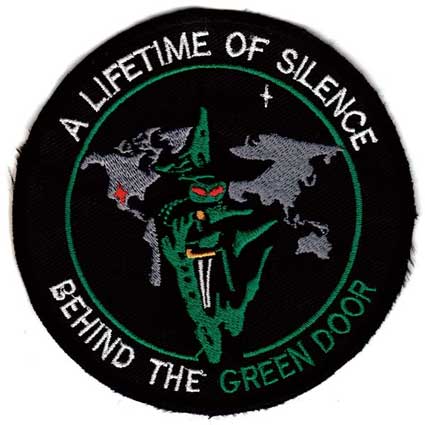 One of Paglen's patches
It was one of the very few conferences I shouldn't have missed this year. Well...I did. But life has its little consolations and the videos of The Influencers have just found their way online. Most of them at least, the missing ones will be there in the next few days. In the meantime, hurray! There is Trevor Paglen (video) and Brody Condon (video). There's also wondrous Santiago Cirugeda (video), he speaks in spanish and one day, maybe one day, i will translate his talk and publish the text here.
---
---
Big thanks to Liz Filardi for documenting this year's benefit.


Lynn Hershman Leeson in front of a projection of her work
RCRD Label and Engadget founder Peter Rojas introducing Joshua Schachter
Del.icio.us founder and Rhizome honoree Joshua Schachter
Mary from High Places
Shana Moulton
Party, Michael Bell-Smith's Faceted Sphere on an Escalator in the background
Johanna Fateman and JD Samson from MEN
Art by Jacob Ciocci from Paper Rad, for the Silent Auction
VISIT OUR FLICKR PAGE FOR MORE
---
---
As a compact but cogent set of explorations on governmental secrecy, censorship and other forms of knowledge control, the exhibit "For Reasons of State" consequently doubles as a menagerie of information technologies: projects on display feature microfiche, voice mail, tape recording, 16mm educational film, printed books, photography, surveillance video, card catalogs, typewritten documents, and good old pencil and paper-- though, perhaps significantly, there's not a computer monitor in sight. Ben Rubin's Dark Source (2005) comes closest via perverse analogy: a bank of microfiche readers displaying copies of documents that appear to be nothing but hand-scrawled bars. During a 2002 security snafu, Rubin was able to acquire the software code for Diebold's controversial voting machines, but then blacked out each line--in accordance with corporate trade secret laws-- before exhibiting it. Rubin's self-imposed censorship mirrors Jenny Holzer's Redaction Paintings (2006) mounted nearby, comprised of enlargements of classified US government documents released via the Freedom of Information Act, still containing large swathes of darkness. Other pieces deal less with active suppression of facts than their effective loss through lack of proper indexing: Lin + Lam's Unidentified Vietnam (2003-Present) series recreates a sloppy card catalog from the Library of Congress's collection of hundreds of propaganda films produced with the help of the American government for use in South Vietnam, while Mark Lombardi's Neil Bush, Silverado, MDC, Walters and Good c. 1979-90 (2nd Version) (1996) serves as an example of the late artist's obsessive sketches of conspiracy-style flow charts linking together powerful individuals, government bodies and corporations in tightly-bounded nests of sometimes inscrutable interconnections. The more exhibited and obvious choices for the show's theme (Trevor Paglen's photos of "black sites," Julia Meltzer and David Thorne's oft-programmed video essay "It's not my memory of ...
---
---
Gavin Brown's Enterprise
620 Greenwich Street
Greenwich Village

Dara Friedman
Gavin Brown's enterprise is pleased to present Musical, a new film by Dara Friedman
Musical is an hour-long orchestration of sixty singing performances commissioned by the Public Art Fund that took place on the streets of Midtown Manhattan last fall. For three weeks Friedman invited ordinary New Yorkers to burst into song on street corners, in coffee shops, museums, and train stations. Friedman's film collates those discrete happenings, creating a sprawling American musical that is by turns uproariously funny and devastatingly sad. Musical was premiered in April by the Public Art Fund and presented later that month under the dome in Grand Central Station, one of the film's locations. In conjunction with the show at Gavin Brown's enterprise Musical will be screened at locations in the city throughout the summer.
---
---